Sandy Moore – July 2022 – Magician of the Month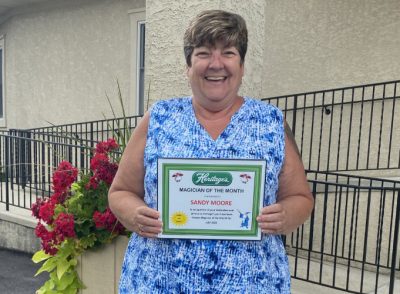 Sandy is a great representation of what our company is all about. She is such a kind person, great to work with, positive, and all around just a fun time to be around. Always willing to pitch in where there's a need, Sandy helps keep us on track with new hires and their training progress.
In the month of June, Sandy held three job fairs at three different stores in a one-week period, added and taught two Magic Classes as well as five one-on-one Magic classes for new employees, and prepared Lunch for the Manager's Meeting. She also had to go thru a merger with our drug testing facility that just could not get our chain of custody forms correct as well as the delivery of the finished results. Her persistence finally got the forms completed correctly and delivered out to the stores on time.
Last week she even fixed the shredder that was jammed up with paper and we didn't need the Service Department. She is a Mrs. Fixit for the HR dept. Sandy's personality is very outgoing, and she enjoys having fun. She is also very giving. She has volunteered to cook at the Ronald McDonald House for years and continues to do so every couple of months as well as helping the Vets.
Sandy, thank you so much for all you do for Heritage's! Your contributions to this team are truly invaluable.