Maria Schaffner – March 2023 – Magician Of The Month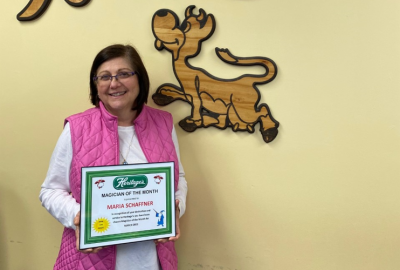 Maria has worn many hats for Heritage's over the years. She may be small, but she is mighty! No task is too tough for her. She is extremely dedicated and proficient in her current role as Director of Human Resources. Maria goes above and beyond in this role. She is everywhere all the time. Maria is very kind, caring, fun and helpful. She puts that personal touch on everything she has her hand in.
In addition to developing store training programs, Maria makes Heritage's better by overseeing activities and events that both promote and advance our company's culture. Maria and the HR Team put together some great company functions, community events, and fundraisers this past year, including the annual picnic, fall festival, HMH scholarship program and Christmas party. Most recently, Maria did an excellent job organizing the annual awards banquet, which was arguably the best one to date.
All in all, Maria does so many things for so many people and is always there to help everyone with whatever problem may arise. She is always positive and encouraging, and there to provide a listening ear. Maria truly deserves the title of Magician of the Month.
Congrats, Maria! It is such a pleasure and privilege to work with you