Sandy Moore- October 2023 – Magician of the Month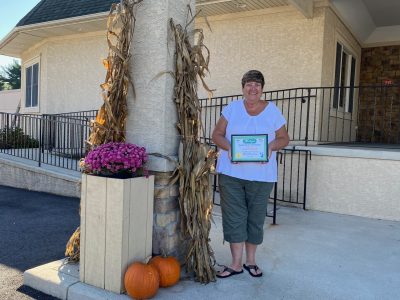 We are thrilled to recognize Sandy Moore as October's "Magician of the Month". Her unwavering willingness to help anyone, coupled with her ever-present smile, makes her an absolute treasure. Everyone knows her as the very loud and funny lady from HR! Her presence is like a ray of sunshine. She is just such a pleasure to be around and she brings an irreplaceable joy to our company. Heritage's would not be the same without her!
Sandy's dedication truly shines through her actions. Just last week, she went the extra mile by conducting a one-on-one GSM Workshop late into the night to accommodate an employee who had another job and could not arrive until 6:30pm. Her commitment to fulfilling employee requests for workshops is truly remarkable.
Furthermore, Sandy has taken on the challenge of getting our engraver to work over the past couple of months. It's been a demanding and labor-intensive process, but with her care and effort, she's managed to produce name tags.
In addition to her HR responsibilities, Sandy takes the lead in planning and cooking for our manager's meetings, touching our hearts through our stomachs. Her culinary talents create a warm and inviting atmosphere for these gatherings, making them all the more enjoyable.
Sandy's influence doesn't stop there; she's the life of our company events. Her outstanding job at the recent picnic added an extra layer of fun and excitement. Sandy's vibrant personality elevates all our company gatherings, making them memorable and enjoyable for everyone.
Sandy Moore, your unwavering dedication, joyful spirit, and the love you pour into your work do not go unnoticed. You truly are the heart of our company, and we're immensely grateful to have you as part of our team. Thank you for all you do!