October 2020 Manager of the Month – Jessica Purcell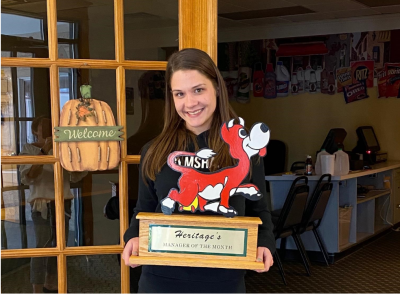 When Jess started working at store #7 about a year ago, her supervisor, knowing Jess to be a happy, light-heart and non-confrontational person, wondered if she would be able to navigate the challenges of managing at team and holding team members accountable; but, over the past year, she has proven herself to be an excellent manager.
Jess is always there to help and uplift her team and she's not afraid to hold anyone accountable when necessary. In addition to managing her team, Jess also hired, trained and promoted two other general store managers while serving in her role.
Furthermore, she has handled the challenges presented this year with such grace. Her store conditions are at company standards and she continues to meet company goals for inventory.
When the team at store #15 needed assistance with running the store, and training and developing their team these last couple months, Jess stepped in to help with a smile!
Her fellow team members are "extremely proud" of her and look forward to her continued growth and development in her position.
Jess, you're a breath of fresh air! Thank you for all your help and hard work!