Lisa Barrow – November 2023 Magician of the Month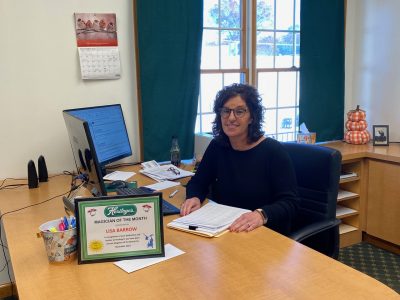 We are thrilled to shine a spotlight on Lisa Barrow, an absolute cornerstone of every event at Heritage's. From the initial planning stages to the nitty-gritty of set-up, serving, and the often-overlooked task of cleaning up, Lisa is an indispensable force. In recent times, as we've hosted several events, Lisa's dedication and tireless efforts have truly stood out.
Beyond her invaluable contributions to our events, Lisa plays a crucial role in ensuring the smooth operation of our payroll system. Her commitment to guaranteeing every employee is paid accurately and on time, as well as her efforts in resolving health insurance issues, speaks volumes about her dedication.
What sets Lisa apart is her unparalleled willingness to step up to any task. From soaking mums to setting up a pumpkin patch, and even cleaning the bathrooms, she's never uttered the word "no" to any request. She dives into her responsibilities with gusto, and it doesn't stop there. Lisa extends her helping hand without waiting to be asked; if she senses you need assistance, she's the first to offer it. Her commitment to Heritage's is undeniable, and she truly embodies the spirit of Heritage's GREEN.
Lisa, your tireless work ethic, unwavering commitment, and the genuine care you show for your colleagues make you an exceptional member of our team. Thank you for going above and beyond in every aspect of your role. Heritage's is fortunate to have someone as dedicated and caring as you. Congratulations on this well-deserved recognition!