Jennifer Lauk – July 2023 – Magician of the Month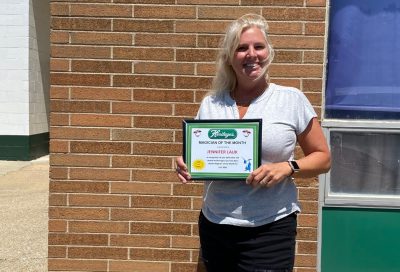 We are thrilled to shine a spotlight on Jennifer Lauk, a remarkable individual who deserves recognition for her extraordinary dedication and compassionate spirit. Jenn has not only excelled in her role as a member of Price Book but has also gone above and beyond to support Big Daddy, a responsibility that requires much commitment and care. Jenn has embraced this responsibility with utmost sincerity. She goes the extra mile to ensure that Skeeter Sr. stays on top of his health.
Jenn's exceptional work ethic and tireless efforts were evident during the recent 4th of July party. She worked diligently not only on the day of the event but also in the days leading up to it. Her hard work and dedication shone brightly, making the party a resounding success. We deeply appreciate her commitment to creating memorable experiences for our team.
Beyond her responsibilities, Jenn's kindness knows no bounds. She consistently volunteers her time to assist with various company functions and is always ready to lend a hand with the phones. Her willingness to step up and help wherever needed demonstrates her selflessness and team-oriented mindset.
Therefore, it is with great pleasure that we name Jennifer Lauk as July's "Magician of the Month." Jenn, we thank you for your commitment, kindness, and the magic you bring to our team. Your selflessness and willingness to go above and beyond serve as a shining example to us all. Congratulations on this well-deserved recognition, and keep up the incredible work!