Hannah Burbage – August Assistant Manager of the Month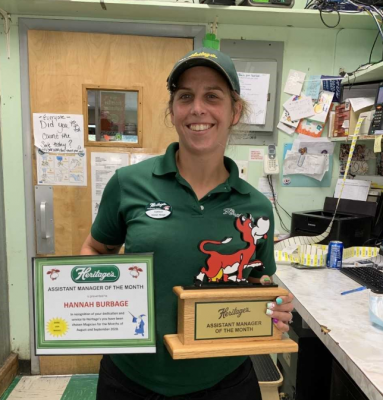 When Hannah was placed into the role of managing Store #32, she had little confidence in herself and ability. The store was very short-handed with only 1 G.S.M. in training.
Hannah finished training and certified the new G.S.M. to run the store. The store is now staffed and the team members work nicely together.
When the new Cold Brew Coffee program was introduced to the store, Hannah took it upon herself to develop and put in place a system in Store # 32 to ensure the new program's success.
Hannah demonstrates exceptional guest service skills, putting the guests before any task, and her team follows her example.
Hannah takes her responsibilities seriously and does everything necessary to make Store #32 and the team successful. Hannah has definitely grown in her position as Assistant Manager and has developed confidence in herself.
Thank you, Hannah, for all your hard work! – Gretchen