Samantha Clementi – August 2023 – Magician of the Month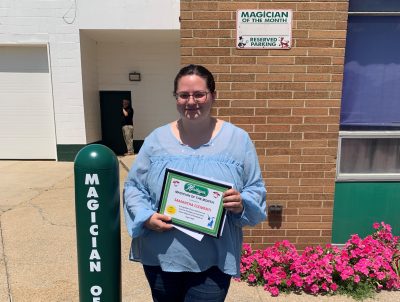 We are thrilled to recognize Samantha Clementi for her outstanding contributions to our team. Her unwavering kindness, proactive attitude, and meticulous attention to detail make her an invaluable asset to our department. Samantha's dedication to ensuring our paperwork is flawless and her willingness to go the extra mile, even beyond the realm of accounting, truly sets her apart. Her positivity and consistent commitment to excellence leave a lasting impression on all of us.
Samantha's recent accomplishments, such as swiftly identifying cash discrepancies across multiple stores and uncovering unauthorized activities just after returning from maternity leave, highlight her remarkable ability to see beyond the surface and tackle challenges head-on. Samantha's astute observations and quick action showcased her exceptional awareness of our operations. Moreover, her initiative in organizing a drive for school supplies exemplifies her compassionate nature and willingness to extend her support beyond the workplace.
Samantha's warmth and approachability never fail to brighten our days. Therefore, it is with great pleasure that we nominate Samantha for August's Magician of the Month. Thank you, Samantha, for your unwavering dedication and your inspiring contributions to our team.