Heritage's Makes Donation to Gloucester County Habitat for Humanity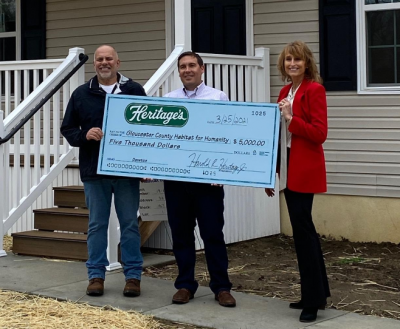 Heritage's and our community-minded customers have a history of supporting the Gloucester County Habitat for Humanity's efforts to provide a stable home environment for our neighbors. Last month, our company continued that tradition by raising $5000 in contributions for the local non-profit, funds collected through our pin-up campaign at our 33 Heritage's stores. On March 26, Heritage's President Skeeter Heritage, Jr., presented the donation to Habitat for Humanity's Executive Director Tony Isabella and Habitat Board member (and Vice President of Marketing for Nexus Properties) Ronda Abbruzzesse.
Gloucester County Habitat for Humanity partners with donors and volunteers to build new homes for qualified, low-income families. To learn more about its efforts to empower through shelter, visit www.gc-habitat.org.
"We thank everyone who participated for their generous donations. It's a blessing to see our small contribution support the people and communities we serve in such a tangible way," shared Skeeter Heritage, Jr.
Heritage's employees will help build a home in Glassboro this spring, so stay tuned for an update on this house build to come.