Sam Heritage – June 2023 – Office Magician of the Month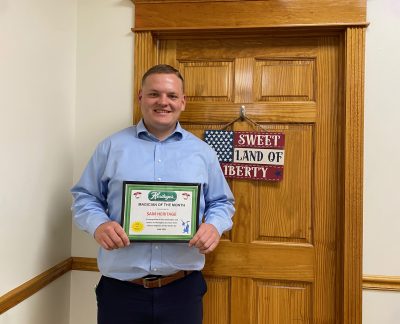 If you need 400 Heri-Eggs made in a few hours, Sam's your guy to help plan and execute. Sam has been a supervisor for a few years now and as he would tell you, "you never know what your day is going to be like or what task you will encounter on any given day."
Although being a supervisor should be Magician worthy enough, Sam has done so much more over the last year to deserve this award.
Over the past year, he has helped get the store operations more consistent and has improved the store's profitability. He trained a GSM to be a manager while they ran the store together.
He had his district switched three times in the past year, going from seven stores to nine stores and then back to eight, facing many different challenges and tackling each one. He spent countless hours working on manager evaluations, creating a plan for each one of his stores in order to help better his managers and their teams.
Furthermore, what sets Sam apart from his peers is his willingness to take on projects, whether they are in his district or not. We recently replaced a series of walk-in doors in different store locations. While Sam's store was first to be completed, he happily continued to help with the rest of them, even creating a checklist for the stores to follow to make the process as simple and efficient as possible. He also helped another supervisor completely change a store's backroom. Sam has grown to be a great supervisor, but more importantly, he has become an invaluable member of our department.
Congrats, Sam! We appreciate your willingness to always help in whatever way you can, and we're happy to have you on our team.