Michelle Mayo Director of Operations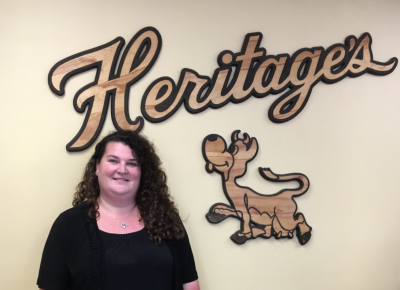 Did you know? Twenty of Heritage's current Managers and Assistant Managers joined the company as a team member!
As people are the most important part of our business, Heritage's presents its employees with opportunities to grow. Without our dedicated team members, we wouldn't be the company we are today. Our company's leadership and management ranks consist of individual success stories of former team members that worked hard, believed in our vision, and took advantage of the opportunities presented to them. Michelle Mayo, our Director of Operations, is one such success story.
Michelle started with Heritage's as a team member at the age of 18. If you were to ask her, she would tell you that she had no idea that the entry level position would lead to a 27-year career. From the team member position, Michelle became a team leader, now known as the guest service manager (GSM) position. In a short period of time, she became a store manager, a position Michelle held for five years, overseeing our Clayton (#12) and Sewell (#24) stores.
The majority of Michelle's career has been in the district supervisor position, where she's grown individually, helped our company grow, and facilitated the growth of those under her leadership. One of Michelle's top skills is her ability to train and develop managers and GSMs alike. Simply put, she makes those around her better. Michelle dedicates her time and attention, and commits herself to her employees' individual growth. Towards the end of her tenure as a supervisor, she reaped the rewards of this hard work with a district that performed, and where six of her nine store managers were her former GSMs.
Thank you Michelle for your dedication, experience, success, objectivity, and temperament, that impact our supervisors and stores for the better!